AccuSchedule is a drag-and-drop employee scheduling system that allows you to plan, create, and deliver dynamic schedules, for your workforce, in minutes. And because we use your existing Workday and TimeCom integration– getting you up and running on AccuSchedule takes very little time. AccuSchedule requires no additional integration work, no complex mapping, or challenging to follow instructions. All the heavy lifting is already done, allowing you to simply log-in and begin to plan, create, and notify employees of new work schedules.
When new schedules are created, changes can be easily made by simply dragging and dropping a reschedule to a new time. You can send notifications to your workforce via SMS or email, alerting them about the new schedule, changes to schedules changes, open shifts, approvals, and more.
Uses seamless integration with your Workday tenant and TimeCom
Up and running in very short amount of time.
Easy-to-use scheduling system frees you from time-consuming updates
Quickly schedule one employee or an entire department at the same time
AccuSchedule leverages your existing Workday infrastructure
Save time, money and resources and benefit from an fast ROI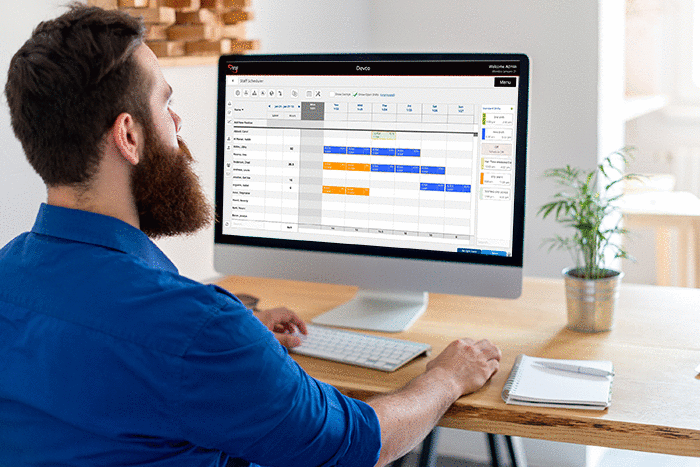 We couldn't make it simpler! AccuSchedule leverages your existing Workday integration with Accu-Time Systems' TimeCom solution. Taking advantage of this seamless integration allows for employee demographic data to populate the AccuSchedule application. Once your employee data is available in your AccuSchedule application, you'll be able to plan, create, and notify employees of new schedules, schedule changes, and more.
Features
As a leading scheduling cloud-based system, AccuSchedule makes planning & creating schedules simple. It is the perfect solution for Workday customers who want to leverage their existing infrastructure. 
AccuSchedule features include:
Seamless integration with Workday and TimeCom.

Single sign-on.

Drag-and-drop scheduler.

Dynamic and static schedules

Import schedules from AccuSchedule into Workday.

Schedule notification

Delivery of alerts and notifications for approaching or exceeding FTE when creating schedules or shift swaps.

Requests for Personal Time Off, Vacations, Sick, and Floating Holidays submitted through Workday are retrieved and shown regularly in AccuSchedule.

Schedule enforced punch restrictions

View pickup/ drop shifts.

Schedule drop/pickup shift manager approval.

Leave request with manager approval – time off request at terminal sent into Workday.

Position-based scheduling.

Schedule templates.

Rotations (Shift patterns over any number of days)
Benefits
Transform the way you interact with your staff with AccuSchedule. This innovative, easy-to-use scheduling system can free you from time-consuming updates to spreadsheets and enable you to manage your teams with complete flexibility. With AccuSchedule, you can now plan, create and manage shift schedules with a simple drag and drop.
Quickly Schedule One Employee or an Entire Department at the Same Time 

Integrated with Leave Manager 

View Schedules by Day/Week/Month 

Real-Time Punch/Schedule Overlay 

Standard Shifts and Rotations 

Color-Coded Hour and Leave Types 

Filter by Company/Division Department/Workgroup/Location Position/ Status/Shift Type